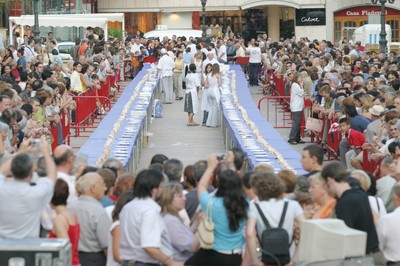 Gastronomy has a prominent role in the Festivity of Santa Tecla. Food is the protagonist in many of the acts promoted by the city's entities. It is the case, for example, of the Braç de Santa Tecla cake, a giant type of swiss role made by the Pastisserie guild and that hundreds of people taste free at the plaça de la Font square; or of the Teclatapa, an area at the Plaça Verdaguer square managed by the Carnival entities where to have a quick snack. A more recent initiative is the festival's ice cream made by Gelateria Farggi , a mandarine sorbet which blends caramel and dark chocolate with Chartreuse, which is green and yellow.
Other essential tastes are the numerous vermouths, in many cases accompanied by music, where there is a magnificent Santa Tecla festive atmosphere. It is the case of the vermouth of the 22nd of September at lunchtime at the Plaça de les Cols square or the vermouth of the 24th at lunchtime, which is served to wait for the arrival of the pillars.
L'espineta amb cargolins (tuna and snails stew)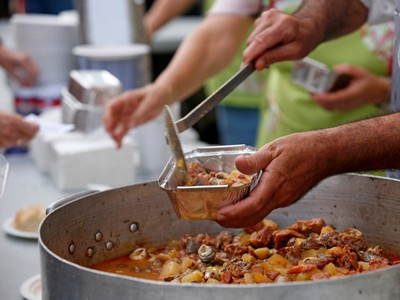 "Santa Tecla gloriosa, mare dels tarragonins. Què tenim avui per dinar? Espineta amb cargolins!", (Glorious Santa Tecla , mother of the people from Tarragona. What is there for lunch today? Espineta amb cargolins!) prays the last verse of the Ball de Dames i Vells (dance of Ladies and elderly). Maybe not all the people in Tarragona eat espineta on the 23rd, although all the popular tastes of the festivity's typical dish always gather plenty of people. See recipe.
La mamadeta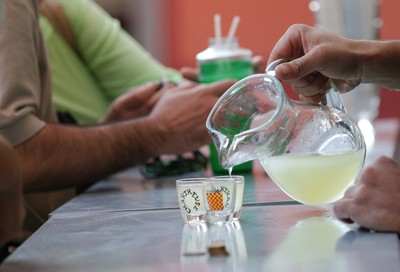 The mamadeta is the tipical drink of the festivity of Santa Tecla, a mixture of yellow Chartreuse, green Chartreuse and lemon granitta that is popular for being refreshing and for its acid, sweet and at the same time smooth tast. The barrilet of the festival, a reusable glass that renews it design every year, has almost become another essential element of the wardrobe of those celebrating Santa Tecla.