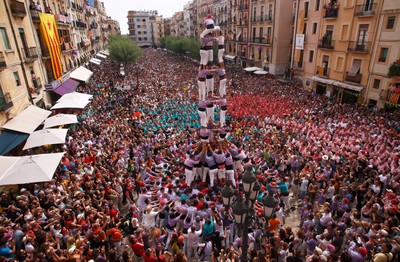 The festival of Santa Tecla is one of the most important human castle gatherings in any season. In fact, throughout history Tarragona has always counted with top level human castle competitions proof of which are the numerous nine-story human casles lifted by colles vallenques groups during the 19th century, especially the quatre de nou sense folre (nine-level castle with four people per level without cover/lining) achieved by the Colla Vella dels Xiquets de Valls the 24th September 1881 at the plaça de les Cols square Currently the Festivals of Santa Tecla has three human castle performances: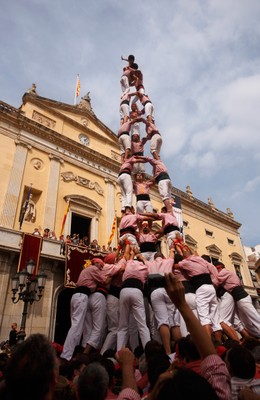 The Plaça de la Font square is where on the first Sunday of the festival the human castle day is held, with two of the best colles of the moment and the two colles of the city that best results obtained the year before. This day has enabled the Tarragona's feast day to recover the most difficult human towers.
On the 23rd of September, Festivity of Santa Tecla, the city's four colles castelleres (human castle groups) prove their best constructions at the plaça de la Font square which is full of spectators.
The 24th of September, Festive day of la Mercè,the four local colles are once more the protagonists on a special festive day. At the plaça de les Cols square the groups have two rounds of human castles before facing an outstanding construction: The pilar caminant (walking pillar).