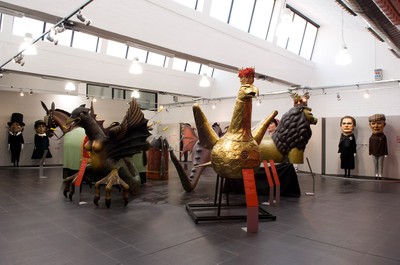 The Tarragona Festival House is the cultural place where we store the elements that make up the Popular Procession and that explains the ritual sequence of the Santa Tecla Festival. The Festival House is a building where we preserve and expose the patrimonial elements of the Santa Tecla Festival Popular Procession, which has been declared of state tourist interest as well as of national traditional interest, and where the ritual sequence is explained and the leading role of human towers throughout history. They are the most significant immaterial assets in the Catalan Counties –within the framework of popular medieval street theatre of medieval Europe and with origins that take us back to 1321; now characterised by the extraordinary participation of its citizens.
The Festival House, located in one of the few surviving examples local industrial architectonic heritage, La Casa de la Festa, and the inheritance of a past that existed in Tarragona since the middle of the xv century. The current house traps the magic of the big Tarragona festival in space and time –celebrated between the 15th and 24th of September- so that visitors can get to know about it all year long. It has exposition rooms that submerge us in the celebration.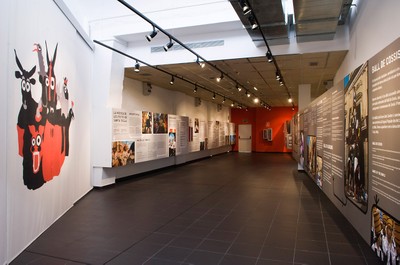 Given the great patrimonial significance of the elements of the Popular Procession and the human towers the Tarragona society appealed, for many years, since 1997 when a manifest was written up along with the City Hall, for The Festival House as a cultural place to preserve the elements of the celebration, their pedagogic explanation and tourist diffusion.
This place is thanks to a long process of citizen participation, with support from the Popular Procession Commission, the Assembly of entities and the Festival Table –made up of experts from around the country- it is located in Via Augusta, number 4, just next to the historic nuclei of the city, and has nearly 1400m2.
It started during 2007 as a space to preserve the festivity images, rehearsals and residence for entities, and on the 31st of May 2008, as a space for visitors with a permanent expo project. In this way the Tarragona Santa Tecla Festival matches those of Sant Fèlix in Vilafranca del Penedès, the Blancs i els Blaus in Granollers, the Festa de la Mare de Déu de la Salut in Algemesí, the Festes Sexennals in Morella or the Festa or Misteri in Elche, declared Immaterial World Heritage by UNESCO.